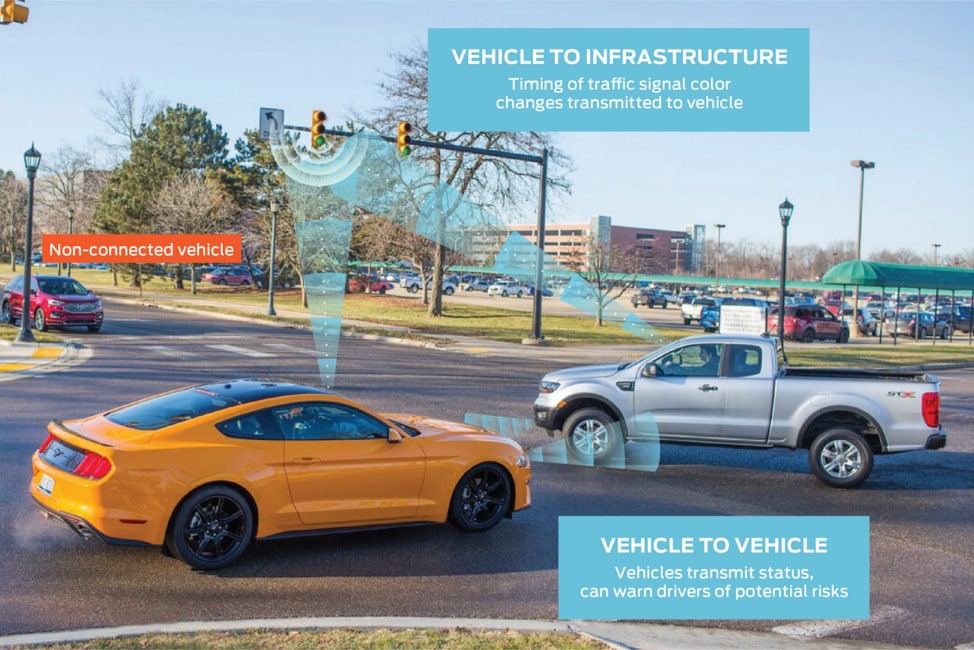 150 years after he first traffic light was created, Ford is advancing technology in order to provide a safer driving experience. The brand is doing this through vehicle-to-everything tech aka C-V2X, which will be a standard feature in every Ford vehicle beginning in the year 2022.
C-V2X is a wireless communication technology that can "talk" to and "listen" for other vehicles that are equipped with similar technology but also includes people, signs, and traffic lights to share vehicle information that can assist cities with creating safer and less congested roads. These plans have been in the making for some time now and will work alongside the popular yet controversial new 5G cellular network due to launch soon. C-V2x will enable communication between phone devices and cars. For example, it may be able to alert drivers to what is ahead of them prior to it happening. The photo above is a great visual representation of how cars will have the ability to communicate or "talk" to each other and the infrastructure surrounding them.
Drivers will be able to navigate four-way stops more efficiently using the C-V2X technology letting each driver know who has the right of way. Another great feature is for those who experience a car accident. Their cars will alert oncoming traffic so that they can avoid any stalled or damaged vehicles prior to approaching. This advanced notice helps to keep the traffic flowing and may contribute to less accidents from those who aren't paying attention. Speaking of that, this tech can send a signal to a driver that may be at risk for running a red light.
Ford is committed to innovation in the world of car technology and safety as well. The brand has a mission to equip this tech for every Ford model that has Ford Co-Pilot360™. C-V2X will compliment the new 5G cellular data network initiative as well as autonomous tech. The David McDavid Ford team will keep you updated on the progress, but this is amazing news!